Erica is a supporting character of Power Animals.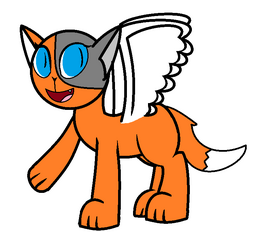 Personality
Erica was been pushed off into the bed of thorns from the cliff and turn her into a cyborg since it was never seen in any Power Animals episodes she appeared. She is very shy but horrible, when someone calls her fabric, she slaps someone who calls her fabric. But she can go insane of being called fabric too much. She has a fear of Scientists.
Appearance
Erica is a cyborg fox with an orange fur and blue eyes. Her face was half metal and has white angelic wings.
Trivia
She is based off of Cyber, who is Samanthatheflyingsquirrel25's HTF OC.